Why iStratgo for Information Technology and Telecoms?
iStratgo understands the need for Information Technology and Telecoms organisations to be sufficiently prepared for the demands and requirements of the future. In particular, the need for action in the context of an efficiently organised operational and organisational structure and of process standardisation, as well as of target-oriented capacity management. iStratgo addresses the core challenges and gaps between intention and reality in the areas of Strategy planning and implementation, workforce performance management, projects time tracking, workforce training and development thus, ensuring Information Technology and Telecoms institutions are able to achieve their targets and objectives in these areas consistently.
Setup
iStratgo's setup goes over and above to ensure that everything can be setup and managed at the click of your fingers. Everything can be set up from your Org units, Jobs, Projects, Appraisal dates, Key focus areas, Strategic objectives and Performance measures. Access to Customisable Score rating.
Performance Appraisal
A performance appraisal is a process that assesses employees job performance and productivity in relation to certain pre-defined measures and organizational objectives. Other aspects of employees' performance are considered as well, such as developments and those areas in need of development. With iStratgo performance appraisal the employee takes control of their performance destiny by initiating the performance appraisal process.

360 Degree Feedback review
A 360 review is a professional feedback opportunity that enables a group of co-workers and managers to provide feedback on an employee's performance. 360⁰ Feedback module on iStratgo is a functionality which enables employees to receive confidential, anonymous feedback from the people who work around them. This typically includes the employee's manager, peers, direct reports and external stakeholders such as customers.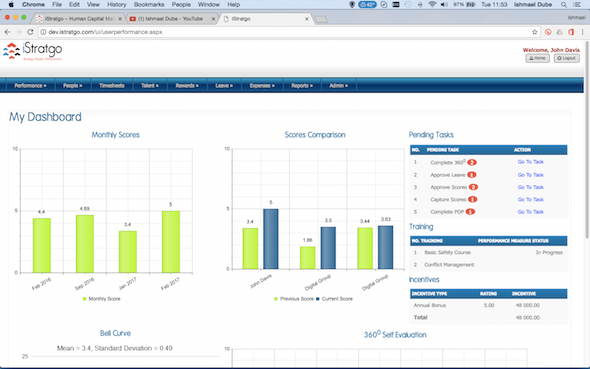 ---
Functionality
Performance management is created and designed to promote and improve employee effectiveness and the overall development of the organisation. Described as a continuous process, whereby general employees and managers or persons of authority work together to track, monitor and manage an employee's work objectives or goals and his or her overall contribution to the organization in terms of performance.
Our Services
Balance Scorecard Design
Project & Change Management
Business & Process Analysis
Custom Software Development